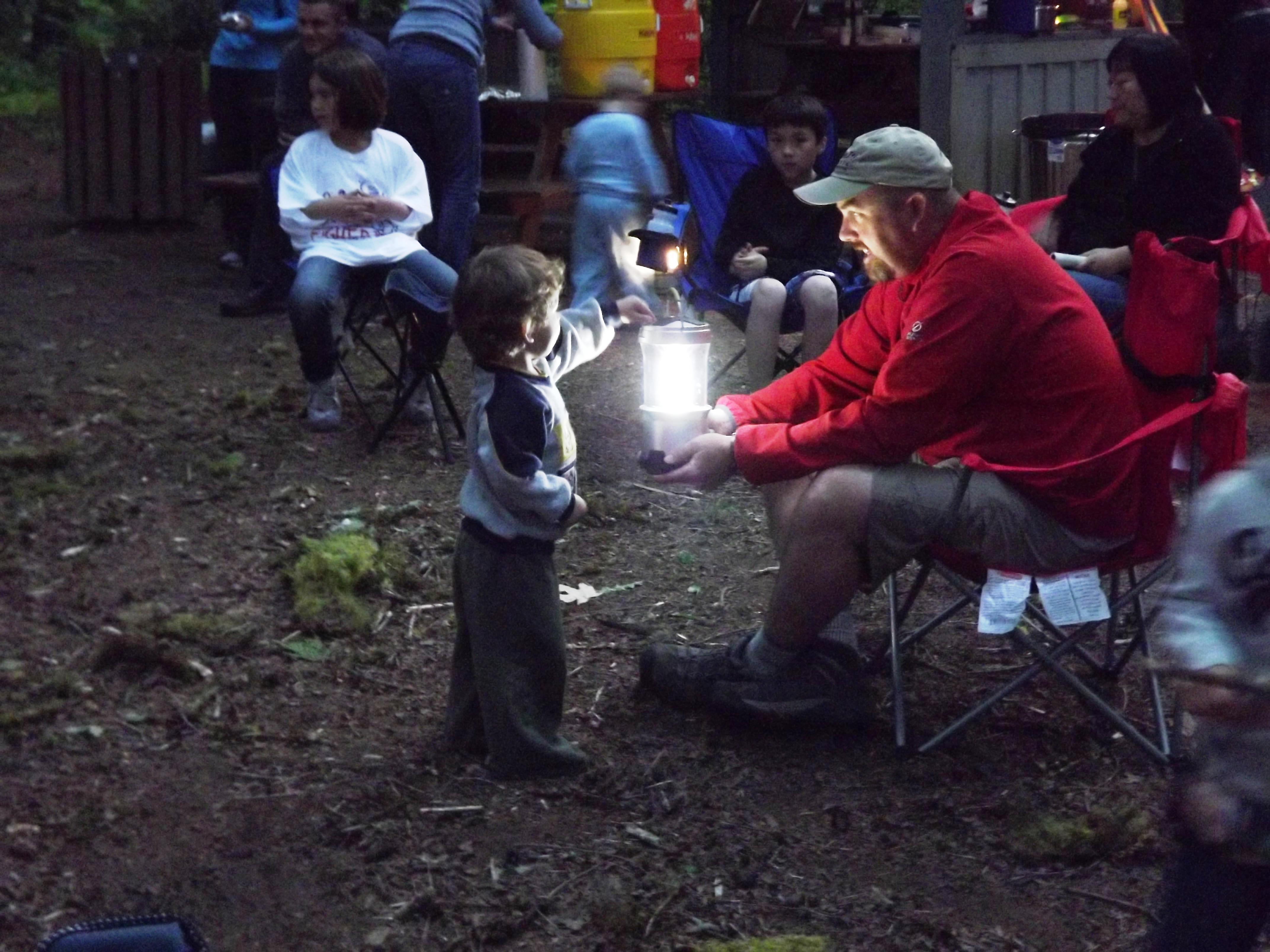 Last summer, my husband introduced our two daughters to the joys of tent camping.  The location – our backyard!  He pitched the tent, loaded the sleeping bags and flashlights, and hunkered down for the night with the girls.
I'll freely admit to being skeptical about my children's continued interest in sleeping outside.  I expected at least one daughter, to jump into her own bed, at the first unknown noise.  But, I was proven wrong.  It was me – the one who slept inside – who was the first one awake in the morning.   The campers were fresh from a great night's sleep outdoors.
As they ready for their next camping adventure, I dedicate this post to my three family members who prefer a sleeping bag to a mattress.
New To Tent Camping?
On July 21st, the Olympia's Parks, Arts and Recreation department, in conjunction with REI Olympia, is hosting a Backyard Camp Out.  Learning the basics of camping, families will have a unique opportunity to camp at Priest Point Park, an area where camping is usually prohibited.
"The program is geared for first time campers.  We teach the basics about camping and environmental education," describes Mike Baker, Program Specialist for the City of Olympia's Outdoor and Park Stewardship Programs.
REI Olympia, a co-sponsor of the event, provides free rentals of camping equipment to participating families.
"REI's goal is to inspire, educate, and outfit for a lifetime of outdoor adventure and stewardship," explains REI's Outreach Specialist Katrina Bloemsma.  "Through events like Backyard Campout, we hope to help families and children have memorable outdoor experiences and develop a long-lasting connection to the outdoors."
Families arrive around 3:00 pm on Saturday.  "We talk about native plants and take a nature walk," explains Baker. "Each family brings supplies for dinner and we cook over a central campfire."
The evening concludes with roasting marshmallows and telling stories around the campfire.  REI Olympia staff will also lead camp games and share tricks for having fun when camping with little ones.  Families head home around 10:00 am on Sunday, after sharing breakfast together.
Families can expect to also learn the principles of 'leave no trace behind' and how to be good stewards of the environment.
"Families will walk away with new skills and the confidence to go hiking and camping on their own.   It's a fun, inexpensive, healthy way for families to spend quality time together," adds Bloemsma.
"The campout is unique because Priest Point Park is in the heart of Olympia.  It's somewhere many families have been before.  This is an opportunity to develop a deeper connection to local outdoor spaces," summarizes Bloemsma.
To learn more, click here.
Tent Camping in Thurston County
When you are ready to test your skills outside your backyard, or simply want a quick overnight with minimal driving, try out one of these tent camping locations in Thurston County.
Have friends coming to town but no room to park their RV?  Check out this post with information about local RV camping location.
With over 800 acres and 3,300 feet of freshwater shoreline, Millersylvania is a popular campground.  The site is filled with trails and boasts massive, abundant old-growth cedar and fir trees. This campground accommodates 120 tents. It also includes over 8 miles of hiking trails, a fishing dock, bird watching, a horseshoe pit, and 7 miles of bike trails.
Linda Burnett, form the Washington State Parks and Recreation Commission, spent last Saturday at Millersylvania.  "If you like to hike, there are plenty of trails to explore.  Kids and parents fish from the dock and visitors enjoy canoeing and rowing," explains Burnett.
Located on the banks of Waddell Creek and within the Capitol State Forest, Margaret McKenny is a popular campground.  The site includes a camp host.  Campground registration is free with a Discovery Pass.
If your family enjoys motoring on outdoor recreation vehicles, then consider a trip to Middle Waddell Campground, also located within the Capitol State Forest.
There is an amazing array of things happening in Thurston County this weekend.  Chat with a beach naturalist at Tolmie, Burfoot, or Priest Point parks.  Enjoy a free concert in Huntamer Park in Lacey.  Attend Children's Day at the Olympia Farmers Market.  Look at our calendar for more details.