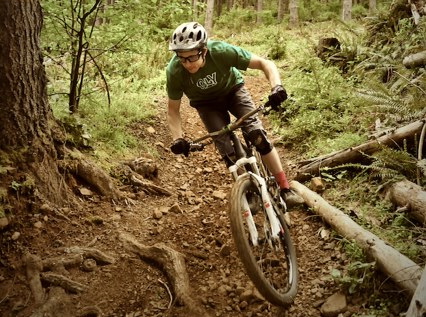 By Anne Larsen

A wonderland of mountain biking trails awaits you at the Capitol State Forest and it's right in your backyard! Located just 20 minutes from West Olympia, Capitol State Forest offers mountain biking trails for beginners and experienced riders.
Now before you head for the hills, I must give you fair warning. Mountain bikers are crazy. The risk of flying down a single track trail, flinging head over heels over your handle bars and crashing into a pile of rocks – oh that's just part of the fun. From my very NEWBIE personal experience I can tell you this:
1) cotton is rotten (that's just a general rule thumb for all outdoor activities, especially in the winter).
2) butt in seat uphill – or your back tire will continually slide out from under you and you'll continually fall over and your riding partners will get further and further ahead of you.
3) butt over seat downhill and DO NOT, I repeat DO NOT stare at the object you want to avoid riding over – because once you stare at it– you will hit it and crash. Guaranteed.
4) screaming is totally acceptable riding downhill – and anyone that doesn't verbally scream, is internally screaming.
5) "on your left" are the three words I hate most, because really, there is nowhere on your left to go.
6) have fun and be safe because seeing your life flash before your eyes makes post-ride refreshments that much more enjoyable.
If you are a newbie or a veteran mountain biker, all of the information you could ever want is found on this comprehensive website.  Click on the "mountain bike" tab.  You can find information about trail maps, see video footage (helmet cams rule!), join the CFMTB Yahoo group, find out when group rides occur and more!
I met with Jim Graham, the guy behind capitol forest.com, to get the inside scoop on everything, from beginning mountain bike routes, to events and group rides. Jim started the site because there was limited information available online about the Capitol Forest.  This site now provides a forum for people to share information.
So dig out those padded bike shorts, put some air in the tires, and get ready to ride!
ROUTES
Kids – If you've got them and want to take them off road, here are a few suggested trails. These trails are user friendly for kids as young as age 6 or once you lose the training wheels. There are two good beginner trails in the Capitol State Forest. Falls Creek Trailhead and Mima Falls Trailhead both offer flatter terrain and would be a good option for younger or beginner riders. Millersylvania is also a good choice. The state park is located just south of Olympia and offers a well marked trail that is kid friendly.
For riders that want more speed or technical challenges the forest offers an array of choices including Greenline 6. For that rider that just wants a really good workout, but nothing super technical Mima Falls or Porter 8 (out of Falls Creek Trailhead) are great choices.
For a complete list of routes, go to www.capitolforest.com.
GROUPS
Join the Capitol Forest Mountain Bikers (CFMTB) Yahoo Group for up-to-date messages and connections.  The site is used by its members to communicate, post mountain bike events, coordinate group rides, announce work parties, and share photos and other topics of interest related to mountain biking.
GROUP RIDES
Wednesday and Saturday rides run all year, so be prepared for foul weather and night time riding conditions (bring a headlamp). Come early so you are ready to ride at the given time. All rides meet at "The Y" — the intersection of Waddell Creek Rd and Sherman Valley Rd. Check the above Yahoo Group site for up-to-date information on all rides.

Mondays: Beginners ride at 6PM — SUMMER ONLY. This ride varies in length and is geared towards beginners or anyone wanting a more casual pace. Contact mtnbikefun@yahoo.com for more info.
Wednesdays: This ride meets at 6PM and varies in length and difficulty.  Rides last between 1.5 – 3 hours. Contact davidsride@yahoo.com for more info.
Saturdays: This ride meets at 10AM and varies in length and difficulty, 2-5 hrs. Watch for special rides on Saturdays.  Contact davidsride@yahoo.com for more info.
WORK PARTIES
Capitol Forest would not be the amazing network of trails and events without the Friends of Capitol Forest (FOCF). It is a rare weekend up in the forest that you don't see the FOCF maintaining trails or offering support to races and events.  The FOCF is a grassroots non-profit organization dedicated to recreation and stewardship of Capitol Forest. "We invite all who would like to join us in our rides, trail work parties and other events. All you need is a safe bike, a good attitude, and a willingness to pitch in. All skill levels welcome!" Join the fun and get out to a FOCF work party! They meet the first Saturday of every month, 9AM meet at The "Y".
RACES & EVENTS: Ok,  are you ready for a little MORE!?! Strap on a race number and let's get ready to rumble!
On June 23rd, 2012 racers will compete in the second annual 6 Hours of Capitol Punishment mountain bike relay race. Join the festival style event –  there will be music, food, prizes and more! A portion of all proceeds and 100% of raffle money will be donated to Friends of Capitol Forest, the stewards of our great venue!
TRIAL DATE: June 23rd, 2012
SENTENCING: 6 Hours
VERDICT: Ride your time & redeem yourself!
Capitol Forest Classic: Friends of Capitol Forest presents the sixth annual Capitol Forest Classic featuring the Northwest All Mountain Championships. Spend the weekend at the Pacific Northwest's premier mountain bike festival! You're in for a treat with two epic courses of 100% single-track. All Mountain titles will be based on a point system this year and will be awarded on Sunday.
Saturday, August 11 races include: cross country race, poker run, and youth cross country race
Sunday, August 12 races include: Super D race and youth Super D race
Tons of swag and gift certificate prizes raffled out each day! You automatically receive a raffle ticket with race entry for each race. Free overnight camping! All race proceeds go directly to building and maintaining trails in Capitol Forest. Questions about the event? Email – friendsofcapitolforest@gmail.com
Capitol Forest 50/100 Mile Endurance Mountain Bike Race 
On August 25th 2012 get ready for an epic ride! The trails are well maintained, and most of the course is rolling, though there are some fireroad climbs and fast downhills. 80-90% of the course will be single-track, with very little overlap due to the incredible amount of superb trails out there. There will be plenty of aid stations along the course and these will be fully stocked with fresh fruit, sandwiches, Clif products (gels, bloks, bars), electrolytes (Nuun and Clif), FRS, cookies, etc. The course will be well marked and accurately measured. Categories include Male Open, Men 40-49, Men 50+, Female Open, Female 40+, Singlespeed.
Diamondback Capitol Forest Enduro: Get ready for the first annual Enduro on September 15, 2012. The Enduro format is wildly popular in Europe and quickly gaining momentum here in the U.S and Capitol Forest is a prime location for an Enduro event. From the 3 timed "special stages" with over 4100' of descent, to the non-timed transition/climbing stages, the varied terrain, casual climbs and long, single-track descents of Capitol Forest provide the right mix of competition and camaraderie for one epic day on two wheels. It promises to have an awesome and well marked course, cash, professional chip timing, swag, spaghetti, beer, music and more!
Discover Pass! Before you head up to Capitol State Forest either for a casual weekend ride or to race – remember your Discover Pass! There is no place to buy a pass at the forest, you need to purchase it before you go. 
So what are you waiting for? Get out there and tear it up! 
Thank you to Brandon Corneliusen of Konrad Photography for the photographs.