By Paul Whitney
Meet David Schaffert, President/CEO of the Thurston County Chamber, and an avid fly fisherman.  I recently visited with David Schaffert at his office in downtown Olympia.  Schaffert has served the Thurston County Chamber for nearly 14 years.  He began with the Chamber in 1991, and then left to work with Master Builders in Lewis, Grays Harbor and Pacific Counties.  He later returned to assume his current position as President/CEO of the Thurston County Chamber.
Although he is not originally from the South Sound, his great, great grandparents homesteaded near Roy, and Schaffert would visit his grand parents in Olympia when he was growing up.  When he finished school, he was happy to take a position with a lobbying organization in Olympia.  Schaffert says that he likes that his position is very community engaged, and allows him to be involved in doing good things for the community.  He appreciates that by helping Thurston County businesses he is in turn helping individuals and helping people to become successful.
Although I appreciated hearing about David's role with the Thurston Chamber, I was there to talk about his favorite hobby, and a picture on his office wall affirmed what I had been told.  David loves to fly fish.  The large picture shows him holding a beautiful local cutthroat trout.  "It's simplicity and at the same time it's how complex it can be all at the same time," he says, when asked what draws him to fly fishing.  He adds, "it can be relatively simple and you can use the same fly and set-up for a wide variety of situations, or you can get very complex and detailed in matching and imitating what the fish are feeding on".
David warns that fly fishing is one of those "toy sports", and you can get caught up in thinking that you need every latest gimmick to make you a better fisherman.  "In reality you don't need very many gimmicks.  Sometimes the things I fish with now are the same things that I fished with when I first started fly fishing when I was 14 years old," he adds.
Schaffert ties many of his own flies, and when fishing the South Sound area he uses primarily two different patterns that he calls his "searching patterns."  Those two flies are a spider style wet fly and a big marabou fly that imitates a bait fish.  Locally, he likes to fish for resident silver salmon and cutthroat trout.  "When resident silvers are hanging around the South Sound, it's hard to beat catching them on surface flies.  They can really hit aggressively, and that's really exciting" he says.  He also likes to fish the Washington coast for salmon and even tuna on flies.
When asked about a favorite fishing destination, David indicates that he really likes to spend time fishing south of the border – specifically the East Cape of Mexico.  He says that many of his best fishing stories are about fish that got away or "came unbuttoned".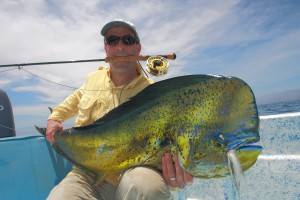 "Last year I had a marlin on that just would not stay buttoned up, and then I lost a large dorado, estimated by my guide to be 60 pounds!  Five minutes later I had on another marlin and lost it too.  Right after that, I hooked up and caught another Dorado that weighed about 45 pounds!"  He showed off a picture of the one that didn't get away.
Schaffert notes that fly fishing is a chance to "…utilize the other side of my mind, so I can be a little less structured.  It's a left brain, right brain thing."
When asked what his recommendation is for someone wanting to try fly fishing, he stresses the importance of good equipment.  "It doesn't have to be top of the line, but a good line and good fly rod helps with the learning curve."  He recommends seeking advice from reputable people in the fly fishing industry, and notes that The Fly Fisher in Lacey has been locally owned for a long time.  He adds, "there's lots of good local opportunity for fly fishing, and it really doesn't take a lot of money to explore a unique opportunity."
Getting back to his role in the Thurston Chamber, Schaffert notes that the Chamber is engaged in many things in the community including education, work force development, and making sure that there's a good local business climate.  He encourages people to take a look at the Thurston County Chamber website at www.thurstonchamber.com.