By Mary Ellen Psaltis
There is one seasonal icon that I long for and get excited when I see it take up its rightful place in the corner of Ralph's Thriftway parking lot: the white Spooner's Berry Barn. Summer must really be here when the windows are open for business.
As cool weather inches towards summer warmth, I look every time I drive by to see if the shutter window is open or shut. Are the berries ripe? Did I arrive too late in the day only to find a stack of empty cardboard boxes piled in back? I hope I am in time to delight my family (and my freezer.)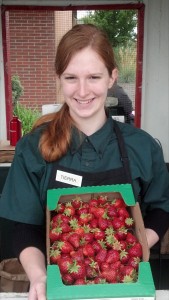 Strawberries do not use a Gregorian calendar to tell them what day to turn red. They rely on the temperatures, rainfall and sunshine to determine how early, how big and how sweet. Spooner's began selling at their Yelm Highway location and has now extended to area stands as the harvest has grown. Owner Sue Spooner is enthusiastic about the current weather – 60 -70 degrees with a touch of rain. This allows berries to ripen more slowly and become sweeter. They can also keep up with the production in the fields.
The white stand at Ralph's Thriftway is one of the many ways Storman's supports the local community. They sell fruit (and vegetables) grown right here in Thurston County. You will generally find Produce Manager Trevor DeWispelaere up to his elbows in produce. With 20 years in the produce industry and the last eleven with the Storman's family, he likes the fact that Spooner's berries are picked early in the day and delivered immediately. The goal, he explains, is to sell out by the end of the day.
This is also the mantra of Spooner's Farm – the berries picked today are delivered and sold that same day. Spooner says, "I want to give the people what I want – fresh berries."
Spooner berries are also available inside Bayview Thriftway.  The berries will sell out every day – a matrix of deliveries and phone calls are tabulated throughout the day so that (ideally) all locations run out at about the same time. This is a reminder to go sooner in the day than later, because – they sell out EVERY day. Fortunately, you will get fresh berries tomorrow. But don't wait too long- the season flies by.
DeWispelaere notes that Spooner's strawberry varieties are sweet, with a high sugar content. These are not the same varieties of ones delivered from other states. Spooners berries are concerned only with flavor – not shelf life or ability to travel great distances. This means that in addition to a vibrant, juicy taste, they also begin to 'melt' quickly. Put your berries in the refrigerator as soon as you get them home. This will help to slow that process down. Wash them as you are ready to eat them.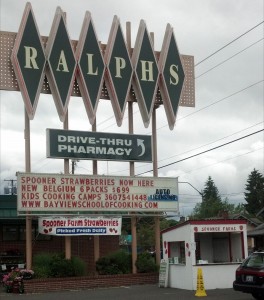 The weather will dictate the details of the berry season, but you can expect the raspberries to come in as the strawberries fade. After that you can stock up on marionberries.
A Few Strawberry Hints:
DeWispelaere's favorite strawberry preparation is simply popping them in his mouth. I seem to do this when I am topping a bowlful. The simple combination of just sliced berries and vanilla ice cream cannot be overlooked. My son likes a light squirt of chocolate syrup on top. Organic whipped cream is also dreamy.
Freezing: Top berries and line them on a cookie sheet. Freeze. When the berries are at least a little hard, you can bag them. This will help to keep them from sticking together. Thawed berries (to me) are not as lovely as fresh, but before they are fully thawed they are a welcome addition to a winter salad. When you add them to a smoothie, their looks are unimportant.
A Buttery Berry Crisp: My recent farm share included four stalks of rhubarb and a box of early strawberries. In case you aren't familiar with rhubarb, it looks like overgrown pieces of sunburned celery. Rather than pawn these sturdy stalks off, I chopped then into small pieces along with the strawberries and made a crumbly crisp that was a real hit.
Spinach – Strawberry Salad: I was a bit skeptical of this combination, now it's one of my favorite summer dishes. The base salad is spinach and strawberries. The dressing is a little white vinegar, a little sugar and a little oil. Desirable additions include poppy or sesame seeds, toasted pecans or almonds, dried cranberries and red onions.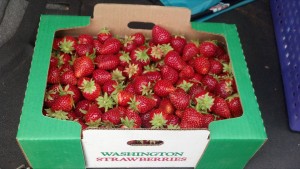 Balsamic Vinegar: Mixing sliced strawberries with a splash of balsamic vinegar and a little sugar creates a new flavor that can be eaten as is or as a topping for ice cream or cake.
Go Berry Crazy by checking out Spooner's website www.spoonerberryfarms.com.
It has recipes for strawberry chiffon pie, strawberry butter, cream cheese strawberry pie, strawberry trifle, strawberry angel, strawberry pizza and strawberry syrup and more.
We are truly fortunate to have locally grown berries delivered directly to family owned Bayview and Ralph's Thriftway.
Eat Well – Be Well