Conduct a quick web search for a recipe or a flip through cable channels and it's instantly clear that information about cooking has exploded over the past few years.  Celebrity chefs and super stars are sharing their tips with average Americans.  Reality cooking competitions are mainstream and adored by viewers.
Olympia residents prefer a local option.  For over 10 years, people have relied on the Bayview School of Cooking for education and fun surrounding learning to cook new foods or perfecting techniques.
The cooking school is intended for everyday home cooks.  Sure, there are specialty classes, but the focus is to provide attendees with education, entertainment and wonderful food.
"After attending a Bayview cooking class, you have had a fun evening out and learned how to make the recipes at home," describes Leanne Willard, Director of the Bayview School of Cooking.
"You don't have to be a knowledgeable cook to come to classes – you just need to have an interest in cooking at home," adds Willard.
The menu of cooking classes is as varied as the ingredients.  Perhaps you want to hone your skills at tackling tricky Mexican recipes, or spice up your holidays with some fresh vegetable dishes, or even learn some tips on creating delicious German meals at home.
"One of the best features of Bayview School of Cooking is our quality instructors," says Willard.  "They are simply passionate about their courses."
Take, for instance, Linda Hunter, a retired elementary school teacher, who leads the children's program for the cooking school.  "Our summer camps focus on teaching kids how to do the basics of cooking," describes Hunter.
In the camp, kids get hands on training on grilling, steaming, sautéing, braising, and all the other methods of cooking.  Hunter selects recipes that include fresh fruits and vegetables with easy-to-source ingredients.  An adult assigned to each group of four campers monitors food preparation and assists kids with their knife skills.
And, the menu doesn't stop with completing a recipe.  "Kids also learn how to make garnishes so their dishes look very special," Hunter adds.
"Gaining the key skills to cook meals at home gives children independence and helps them feel empowered," describes Willard.  At the end of the camp, each student receives a notebook complete with the camp's recipes.
"A lot of kids want to be a chef.  And, the other half want to whip up a recipe to impress their parents," says Hunter with a chuckle.
Ingredients are sourced primarily from within the Bayview Thriftway grocery store and instructors aim to use fresh, in season products.  Additionally, cooking school participants receive a 10% coupon that can be used on most items in the store.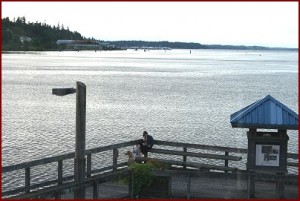 People opt to attend cooking classes for a variety of reasons.  "There is a misconception that we are training chefs.  You don't come to our cooking school to get a certificate.  We create recipes that people can use at home everyday," comments Willard.
Here are some reasons people continue to choose Bayview School of Cooking:
Interest in a speciality class.
Be entertained for an evening.
Enjoy wonderful food.
Experience a fun night out with a friend.
Watch a local restaurant owner mix their recipes.
"There is great camaraderie between our instructors and cooking class attendees.  Everyone is having a great time," adds Willard.
And, who can ask for a better view?  The cooking school is located above the deli in Bayview Thriftway.  The corner windows let cooking class participants gaze out at the expansive view of the Olympic Mountains and Puget Sound.
It's this same venue that has made BBQ outdoor cooking classes so popular.  In July, Chef Treacy Kreger is doing an encore performance of last year's salmon grilling class.  This year, he's adding a tasty steak and chipotle chicken to the menu.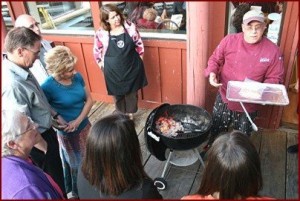 Another fan-favorite is the grilled pizza class which occurs on a Friday night in August.
I have always wanted to learn how to transform pizza dough for a crispy, grilled concoction without heating up my kitchen.  Sit on the outdoor deck, sip wine paired with the menu, chat with a good friend, and learn how to make grilled pizza – sounds like I'm in for a delightful evening!
Bayview School of Cooking is a local, family-owned owned business, located inside Bayview Thriftway.
516 4th Avenue West
Olympia, WA 98502
360.754.1448