By Mary Ellen Psaltis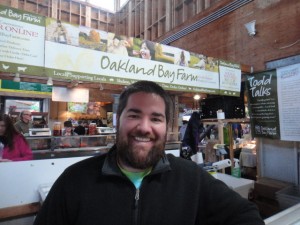 Where's the beef? Conscientious consumers want to enjoy meat but now ask many more questions before indulging.
What is the animal fed? Grass? GMO corn?
Have the animals been pumped with antibiotics?
What are their living conditions?
For those who care about these answers, there is Oakland Bay Farm. They are located in Shelton, and they have a regular stall at the Olympia Farmers Market. Here is a place to purchase locally produced, grass fed meat.  Readers may also be interested in this previous post about local farmers in Thurston County.
What's the big deal about grass fed animals? Studies have shown that grass fed animals have higher levels of omega-3's and lower amounts of saturated fat. This is good health news. They are also not unnaturally fattened up with corn. Since grass fed meat is leaner than feedlot meat, the number of calories per serving is also lower. On another note, the living conditions of the animals in Shelton are a sharp contrast to life in a feedlot. (You can read all about feedlots online, which is enough to have you rethink traditional meat purchases.)
The faces of Oakland Bay Farm at the Olympia Farmers Market are farmer/proprietor Todd Waltermire and also Jason Dexter. Either can answer questions about the farm or the available cuts of meat. Waltermire said the hardest part of working at the market is listening to all the mouth-watering recipes people use with his meat. He gets hungry.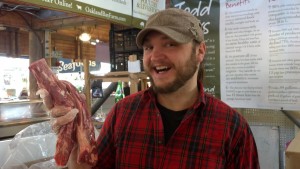 On my last visit I was surprised to find there was still some bacon left in their display case. I wanted to make my version of Amatriciana, an Italian pasta dish infused with a little pork. Classic Amatriciana is made with guancicale, otherwise known as pork cheek, pecorino and tomatoes. Here's my easy recipe:
Amatriciana
Bucatina
Bacon
Onions
Spaghetti Sauce
Pecorino or Parmesan cheese
Put a big pot of water on to boil.
Slice bacon into small pieces; line a cold skillet and then cook until just crisp. Drain on a paper towel. Drain off most of the fat from the pan but leave a little to brown a big stack of sliced onions. Cook till just soft.
Cook the bucatina (a thick spaghetti with a hole down the center).
Heat up some spicy spaghetti sauce (or use your own), stir in the cooked bacon, and add the onions and a shake of hard Italian cheese. Serve with additional cheese and a big salad.
Other recipe ideas:
Oakland Bay Farm's sweet Italian sausage turns ordinary spaghetti or lasagna into something extraordinary. The other night I simply cooked some whole-wheat rotini and added it to the cooked sausage along with spaghetti sauce. Very popular.
We like to grill hamburgers during the barbeque months, and Oakland Bay Farm often has fresh ground beef. When they have ground lamb, consider making lamb burgers. You can mix a little basil and feta cheese into the mixture. Excellent.
Now I'm getting hungry.
Eat Well – Be Well.