By Stacee Sledge
A bad decision on the eve of Halloween in 1992 changed Bryan Ketola's life forever.
At 22 years old and the father of two, Bryan was going through a stressful divorce. Co-workers suggested he could use a night out to relax and take his mind off his troubles.
He and his buddies traveled from Olympia to different taverns and bars that night, eventually ending out in Rochester.
"When it was time to leave, a girl came up and asked me to take her car," Bryan recounts. "She said to be very careful and I said no problem, I'm fine."
But Bryan wasn't fine. Although he felt he was the most coherent of his group of friends, he soon learned that even just a little bit too much to drink can have disastrous consequences.
Driving an unfamiliar car and dropping off a passenger in an area he didn't travel often, Bryan chose the quickest way home that he felt carried the least possible chance of being pulled over, "just in case."
"I went down 99 and took a right on Rich Road and drove four tenths of a mile," he says of the last moments he remembers before flipping his car three times.
Bryan was thrown 50 feet from the car, landing in the ditch.
"I was kind of going in and out of consciousness. I was hearing voices saying, "Man, I'm still alive." But at the same time, "I can't move."
He was rushed to Providence St. Peter's Hospital, where they confirmed he'd broken his spine and was paralyzed. "I severed my spine from the C5 down below C7 and then shattered my left scapula in three places," Bryan says.
From that point on, Bryan says, he felt it was a new beginning. Bryan was the first quadriplegic to go through the new Providence facility. "It was seven months of rehab where I focused on re-learning my body," he says. "It's kind of like being a baby, being born again, and trying to do every little task."
His goal, throughout rehab, was to get out and be as independent as possible. "I just wanted to be a stronger person, and see what life would bring me," he says.
Bryan moved back to his mom's house for the first couple of months, until he felt ready to move on. Today he lives independently, with a roommate.
"I started using Intercity Transit's Dial-A-Lift for my transportation. I call it my limo," Bryan says, with a laugh. He became a member of Intercity Transit's Disability Board and offered advice and input about improving disability services.
Bryan faces enormous challenges everyday, but that doesn't keep him from volunteering and being a part of the community.
His love of landscaping – sparked by a greens keeper job at a local golf course when he was 18 – led him to become a Master Gardener. He's now a familiar sight on Fridays at the Olympia Farmers Market, selling plants, tending to the Gallacci Gardens there, and talking with people about gardening.
He's also planted vegetables for the Food Bank this year and coaches YMCA youth soccer teams. "Everything I do is volunteer," says Bryan.
In the mid-1990s, Ketola was a THINK FIRST speaker, traveling to Western Washington schools to talk about spinal cord injuries. That experience didn't involve him talking about the dangers of driving under the influence – but that's something he'd like to do in the future.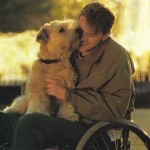 "Down the road, I'd like to do a fundraiser and help get a vehicle so I can start going to schools and tell my story," he says. "That's the real freedom, when you have a vehicle."
The message he wants to share? "Just don't make a mistake like I did," he says. "Don't get behind the wheel. Even a small amount of alcohol can affect your judgment. Call someone. Call a cab. It's not worth the risk of ruining your life or someone else's."
Bryan has an unwavering good attitude in the face of his difficult situation.
"I have days that are troublesome, but I can always pick myself up," he says. "Because there's always someone else who's homebound or worse off than me. Life is too precious, you know? And yes, it's challenging, but I never give up."
Bryan has written a poem about his accident, which he's been promoting online in hopes that sharing his experience can help save other's from making the same mistake.
My Life Changed In Seconds
by Bryan Ketola
Walk, Run, Jump: Stop!
Not any more. Why?
When? 4 a.m. on Halloween Morning
5:05 the trooper arrived
My body laying in a ditch, the car was on its side
Made a wrong choice
Knowing I shouldn't be able to drive
People do this. I feel fine.
Wham! In seconds I broke my spine.
Looking up at the dark grayish sky,
asking myself "why?"
Scared, cold, my mind was confused.
The feeling was awkward, I couldn't even move.
As I hear voices in my surroundings,
Knowing I'm still alive.
My life changed in seconds
'cause I was drinking and driving.
The choice I made effects me even today.
I sit in a wheelchair every day.
Through these years, with a positive attitude.
This happened when I was only 22.