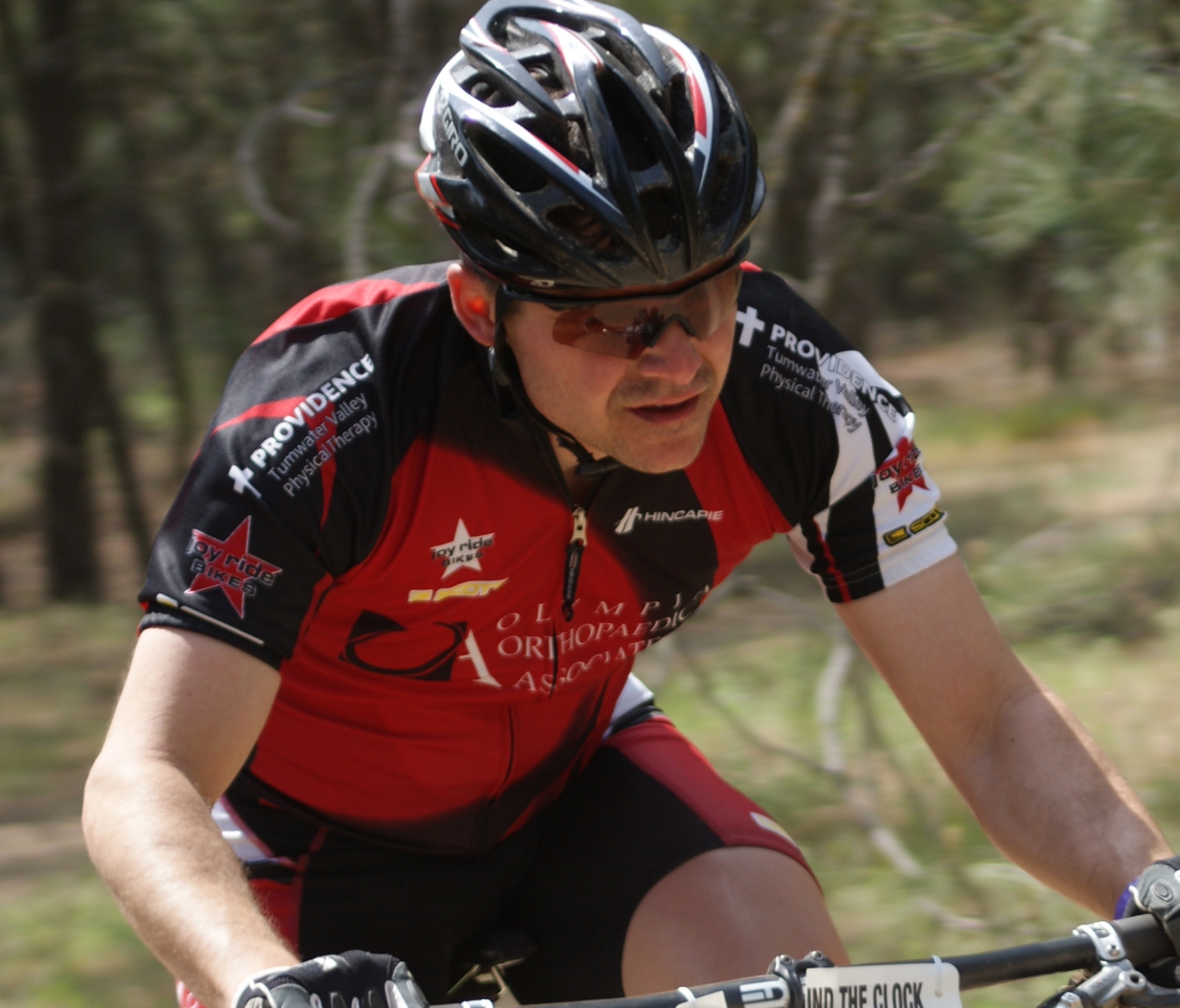 By Laurie O'Brien
They came from all over the Pacific Northwest.  Over 900 athletes, including a large contingent from Thurston County, descended upon Riverside State Park in Spokane over Memorial Day Weekend to participate in the personal suffer-fest known as the 24 Hour Round and Round Mountain Bike Race.  It's a grueling event, but those who ride it love it and look forward to the agony every year.
Beginning at noon on Saturday and ending at noon on Sunday, individuals and teams competed for medals, prizes and bragging rights over who could complete the most laps around a 14+ mile loop.  While one rider was out on the course, his or her teammates would rest, rehydrate and refuel.
Hundreds of RVs, tents and makeshift sleeping areas served as the various team camps.  Team volunteers helped keep riders moving by providing food and the occasional wake up call.  The most sleep anyone could hope for over the 24 hour period was a cat nap of two or three hours.
Every hour or so, as riders completed their laps, they would check in at the timing tent, handing their team timing chip off to the next rider.  Most riders completed a single lap somewhere between an hour and an hour-and-a-half.  A personal victory for most experienced riders was to pull a sub-hour lap – especially if they could do it after nightfall.
At 8 p.m. lights had to be affixed to either the rider's helmet or handlebars.  With over 200 people on the course at any given time, visibility was essential.  Thankfully, this year's race featured clear skies and no rain; however, temperatures overnight on Saturday dipped into the low 30s, and riders who didn't have the proper attire found themselves at a huge disadvantage.  For most, fatigue started in after midnight, and cold hands and feet only made things worse.
By mid-morning on Sunday, the end was in sight.  As the hours ticked down and riders realized there wouldn't be enough time to pull another lap in the rotation, a sense of relief was felt.
Some riders, however, were called back into duty.  Thirteen year old Lewis Whiley, of Olympia, thought he was finished at about 6 a.m., but then he was asked to do "just one more lap" at 9.  Initially discouraged and thinking he couldn't do it, Whiley actually rode one of his fastest laps over 20 hours into the race.
For most riders, that's the draw of the race – pushing yourself physically and mentally to places you didn't know you could reach.  For the novice 24-hour rider, Whiley, this was a huge accomplishment.  He is already psyched about improving his personal times and lap count in the 2013 race.
Two teams made up primarily of riders from Thurston County came home with hardware on Sunday.  Luke Brechwald, Jennifer Burtner, Henry Gertje, John Hadden, and Jo Markham, joined forces as "Relentless Focus" and took home the bronze medal in the 5-person Co-ed Division.  David O'Brien, Kyle Sweeney, and Lewis Whiley along with two of their Revel Consulting-Rad Racing NW teammates, Erik Pitkanen and Titus Bender, took the silver medal in the Junior Division.
Relentless Focus managed to complete 23 laps over the course of 24 hours, while the winning team in their division finished 25.  The Revel-Rad juniors team, comprised of two 16 year olds, one 14 year old, one 13 year old, and one 12 year old, finished with 21 laps, the same amount as the first place team in their division.  The youngest rider on the winning team was 14.
Special recognition is due to Thurston County residents who rode in the solo divisions.  Thomas Schultz of Olympia rode in the Solo Single Speed division, completing 17 laps or 254 miles all by himself.  Schultz placed fourth in his division, just out of the medals.  Andrea Mohrle of Lacey completed the Women's Solo race with 9 laps or 134+ miles.
Congratulations to all Thurston County residents who participated in the Round and Round 24 Hour Mountain Bike Race:
Jim Albright –  Old Wim Guys – 2nd place 5 person combined age of 250+ years
Reuben Andrews – Fall Creekers
Derik Archibald – Shredded Bits and the Funky Junk
Luke Brechwald – Relentless Focus
Jim Brown – Revel Consulting-Rad Racing NW Staff
Jennifer Burtner – Relentless Focus
Andrea Casebolt – Revel Consulting-Rad Racing NW Junior Team 3
Jason Casebolt – Revel Consulting-Rad Racing NW Staff
Rod Ditrich – Revel Consulting-Rad Racing NW Corporate Team
Debbie Driver – Fox Force Five
Walker Duvall – Weebles
Henry Gertje – Relentless Focus
John Hadden – Relentless Focus
Michelle Kautzman – Shredded Bits and the Funky Junk
Brian Koder – Shredded Bits and the Funky Junk
Jo Markham – Relentless Focus
Ann Mitchell – Shredded Bits and the Funky Junk
Brian Mitchell – Shredded Bits and the Funky Junk
Andrea Mohrle – Women's Solo
David O'Brien – Revel Consulting-Rad Racing NW Juniors Team
Lee Peterson – Fall Creekers
Erin Roe – Fall Creekers
Andy Rosser – Revel Consulting-Rad Racing NW Corporate Team
Thomas Schultz – Men's Solo Single Speed
Matthew Seemann – Fall Creekers
Kyle Sweeney – Revel Consulting-Rad Racing NW Junior Team 1
Jess Valler – Midnight Yardsale
Lewis Whiley – Revel Consulting-Rad Racing NW Junior Team 1
Jason Wilcox – Fall Creekers