Steve Short, owner of A Steve's Professional Truck Mounted Steam Cleaning, knows carpet cleaning. He and his son-in-law are also pros at freshening up upholstery, mattresses, tile, vinyl and concrete. Pet odors a problem? Call A Steve's. Need emergency water extraction? You guessed it: Call A Steve's.
Steve Short's daughter, Rachel Christensen-Lindsay, and son-in-law Steve Christensen-Lindsay are also instrumental in the day-to-day running of A Steve's.
Rachel grew up helping her dad, who was a single father when he started the business in Pierce County 30 years ago. After marrying in 1992, he moved his family to Lacey.
"I've worked for the company off and on my whole life," she says, laughing. "He was a single dad and I would go to work with him when I was a kid. I'd hold the hoses. When I got older, I started cleaning the upholstery. I wasn't exactly the best employee at that age" – more good-natured laughing – "but I tagged along."
Rachel has been doing the company's books for the past six years. Her husband Steve started taking on most of the cleaning jobs five years ago. "Unless we get too busy," says Rachel, "then my dad will take care of the overflow stuff. Otherwise, Dad does a lot of the networking and meetings for the company."
Rachel and Steve live in Pierce County now, building the business up there while her father continues working in Thurston County. "We've got two cleaning trucks, and have a presence in both areas," says Rachel.
"We've got a lot of customers who call us every six months, or every year. And we also have a lot of property management companies and real estate agents who call us to do the majority of their vacant-house cleaning."
Rachel suggests folks have their carpets cleaned every six months or once a year, if not much mess is created in the home. "Houses with families, especially, should get it done every six months," she says with a laugh.
A Steve's uses a truck-mounted system, which heats water to over 200 degrees, mixes it with a pretreatment cleaning solution, and then uses the resulting steam and a rotary tool to lift stains and repair wear.
"It takes the dirt out of your house that the vacuum isn't going to take out – that ground-in dirt that gets down into the bottom of your carpet," Rachel explains. "It also helps reduce allergy problems."
The hot water is sprayed directly into the carpet, the rotary agitates the carpet, and then the soap and water are sucked right back out. The carpet is dry again in just a couple of hours.
"We do upholstery cleaning as well – couches, chairs, mattresses, tile, vinyl, and concrete floors," says Rachel. "Just about anything you can clean, we do it."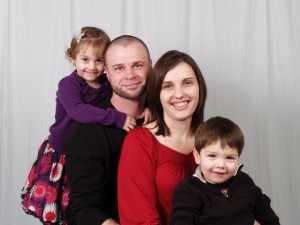 The company has an important ongoing Facebook promotion, launched to show their appreciation for Mary Bridge Children's Hospital and to raise awareness of childhood cancer.
The Tacoma hospital began treating Rachel and Steve's young daughter – Alyssa, now four years old – after she was diagnosed with leukemia in 2009.
A Steve's donates 50 cents to Mary Bridge for every Facebook user who "Likes" the company's Facebook page. "They can use the money for research or to buy toys for the children who are in the hospital, whatever they choose," Rachel says.
"Alyssa just finished up her treatment and she's cancer-free," she adds. "She's doing wonderful."
The family has been taking Alyssa to Mary Bridge regularly since her diagnosis. "Sometimes we had to go once a week, now we go once a month. We'll be going to Mary Bridge basically for the rest of her childhood years, and then when she's an adult, we'll go someplace else," Rachel says.
When the couple, which also has a two-year-old son, Alexander, looks back on the last two years, it's all a blur. "Everything was so fast and sometimes you didn't fully understand what they were talking about until a month later," Rachel says with a laugh.
"It was hard," she says. "The good thing was that everyone had a positive attitude; the hospital is absolutely wonderful. And when you're two-and-a-half, that's all you know – what you're living at that moment – so Alyssa didn't know she was different."
When Alyssa lost her hair to treatments, the men in the family shaved their heads bald in support. "My dad shaved his head, my husband, our son, all the uncles," says Rachel. "It was something cool for her. We tried to make it as positive as possible."
A Steve's Professional Truck Mounted Steam Cleaning, Inc.
360.701.9544 (Thurston County)
253.691.3150 (Pierce County)