By Stacee Sledge
Downtown Olympia's annual Girls Night Out is just around the corner, an all-day event that pulls hundreds of women shoppers downtown for deals, delights, and raffle prizes. Best of all, Girls Night Out raises money for important local causes.
The Olympia Downtown Association (ODA) created Girls Night Out in 2009. This year's event takes place Friday, May 18.
"We brought Girls Night Out here based on what other downtown communities have done across the country," says ODA executive director Connie Lorenz.
The way it works is simple (and simply fun): Girls Night Out shoppers purchase one of 600 available goodie bags, which contain an itinerary of participating shops, coupons, and other fun treats and samples. No two bags are alike.
Girls Night Out shoppers then meander downtown with their bags, stopping at the array of shops marked by pink balloons and event posters. For every $10 spent at these stores, customers receive one raffle ticket for an end-of-the-evening reception and drawing at the Washington Center of the Performing Arts.
The more you spend, the more chances you have to land fantastic prizes supplied by local businesses.
"It's a good way to support downtown, small retailers, and nonprofits – and it's a fun way to do it," says Lorenz. "It's a very festive mood."
Last year's event brought in nearly $40,000 in downtown retail sales, with $4,000 donated to SafePlace. This year's recipients of the goodie bag proceeds are the Thurston County Food Bank and Olympia Artspace Alliance.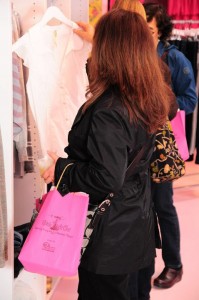 Goodie bags can be pre-purchased now for $10 and cost $15 the day of the event. Get yours at the Olympia Downtown Association (116 5th Ave. SE, Suite F), Courtyard Antiques (705 4th Ave. E), and Vivala (111 Market St. NE), or by calling 360.357.8948.
Doors for the 8:30 p.m. reception open at 8:00 p.m. Girls Night Out celebrants will enjoy complimentary appetizers and a no-host bar. Those selected to take home raffle prizes need not be present to win.
During the first year of the now popular event, the ODA sold 200 bags. "We had a really good response from retailers and of course it sold out," says Lorenz. Each year they offer more bags, and each year they sell out. Six hundred goodie bags are up for grabs this year.
Participating businesses often offer yummy bites and beverages on top of discounts. This year's itinerary of stores, deals, and events is available at the Girls Night Out Facebook page.
You never know what entertainment might pop up. Last year, male entertainer Hot Tony performed atop the counter at Archibald Sisters. He's back this year, by popular demand, from 6:00 p.m. to 8:00 p.m.
Goodie bag items also get creative. "One really cool one this year is from Precious Metalsmith," says Lorenz. The store is placing a cubic zirconia diamond in 599 bags – and one bag will contain a real diamond. Participants can stop by Precious Metalsmith to find out it they received the genuine gem.
Preen waxing and skincare boutique will offer free lip gloss applications for shoppers, alongside discounts on all their retail products.
"We wanted something that will be quick and easy for people to come and experience," says co-owner Gina Hart. "I did it last year and it was a lot of fun."
And like many of the participating stores, Preen will be serving up a special pink drink.
Olympia photographer Cortney Kelley is hosting two fashion shows – at 6:00 p.m. and 7:00 p.m. at her studio at 418 Washington St. SE – which will include men and women's fashions from Sweet Life, Bonaventure, Vivala, Belliza Ropa, Jinjour, Hot Toddy, Yolly, Metro, and g. Miller.
Kelley will also be taking professional Facebook profile photos for just $10. "It'll be a great event and evening," says Kelley. "We'll remain open for an hour or so after the reception, so people can extend the fun."
Alchemy Salon & Spa will provide hair and makeup for Kelley's fashion show. Alchemy co-owners Shannon Carroll and Melissa Boyer have been involved with Girls Night Out for the past couple of years.
"It's totally fun," says Carroll. "They moved it to Fridays this year, versus Thursday, and I think that's going to make a big impact."
"For the $10 raffle ticket, we're doing mini-makeovers," says Carroll. "I'm doing up-dos and Melissa will do brow touch-ups and mini-makeup touch-ups, as well."
"Word gets out and it's grown," Lorenz says of Girls Night Out. "People hear how much fun it is and they grab their girlfriends and say, 'Let's go!'"
For more information, contact the ODA office at 360.357.8948, odaevent@tss.net, or visit http://www.facebook.com/girlsnightoutolympia.
Intercity Transit has extended their free Dash service to 8:00 p.m. on Girls Night Out.
Photos courtesy of JBenjamin Photography