By: Amy Rowley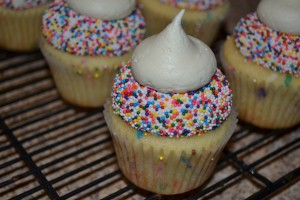 Amanda Beers' business started while she was sleeping.  "My husband made me a Facebook page.  I had the business idea in my head but I don't know if it ever would have come to fruition," explains Beers.
Sweet Charley B's Cupcakery has a cult-like following.  With more than 50 flavors, Beers creates delicious cupcakes that appeal to kids and adults.  "Salted caramel… yum, I wish I had one right now," states customer Anne Wilson. "My daughter picked the root beer float cupcakes for her birthday.  The kids loved the cute straws and cherry on top of each cupcake," says customer Bree Warjone who appreciates the clever additions.
Beers gets her inspiration from other desserts.  For example, she saw a cherry cheesecake and realized that she could turn it into a new cupcake flavor.  "Her flavors are creative and beautifully presented and are so hard to resist seconds, thirds, maybe even fifths," says long-time family friend and loyal customer, Jennifer Schreck.
"Cupcakes are fun, easy for kids to eat and convenient to bring to an event.  Plus, they are just pretty," says Beers with a smile.  Beers can churn out four dozen cupcakes of the same flavor in about one hour.  While not a sweets-eater herself, carrot cake is her favorite flavor and cookies and cream is the most popular order.
Her largest order comes twice a year from Dr. Goerig's dental office.  "He purchases 70 dozen and then passes them out to referring dentists as a 'thank you' for their business," describes Beers.  "I won't do business with any other vendor," says Patty Belmonte, Executive Director at the Hands On Children's Museum, who serves mini-cupcakes during board meetings.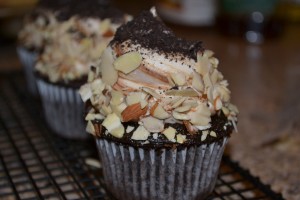 Place your Thanksgiving orders early.  "It's our busiest time.  I offer flavors similar to pie, such as pecan, pumpkin and apple.  I think people order because it's an alternative that's easy for kids to eat," explains Beers.
Beers is expanding in June to a storefront in Olympia.  While she is still fine tuning the details, her goal is to open on June 28th which marks two years since the tragic loss of her daughter, Charley.
Charley's Story
Charley, a normally very healthy child, had just finished kindergarten.  On a Friday, her younger sister's soccer team was short a player so Charley joined in the match.  After the game, she went to her grandparents house for the weekend.  On Saturday morning, Beers' mother, a registered nurse, called to tell her that Charley was not feeling well.
"We could get her fever under control but it never really went away," says Beers.  On Sunday, Charley was massively uncomfortable and despite reassurances from the on-call doctor over the phone, Beers took Charley to the emergency room.  "Something about our situation made the ER doctor order tests that he would not have typically done.  He told me how he would normally treat a child in this situation but that something was not sitting right with him.  The blood work came back odd and just wrong," Beers says.
The family was transferred to Mary Bridge Children's Hospital.  "Usually it takes days for cultures to grow.  Something started growing in Charley's culture rapidly.  It shut down everything in her body.  By Monday at 8:30 am, she was gone," explains Beers who is grateful that she did not have to watch her daughter suffer.  "She did not know how sick she was."
Charley was inflicted with Group A Strep, a bacteria that had entered her blood stream.  One of her physicians noted that she had a better chance of being struck by lightening twice in the same place than contracting this bacteria in her blood stream.
The same day that Charley passed away, a group of close friends and family gathered to start a foundation in Charley's honor.  Together, they raised funds to build a playground at Hansen Elementary School.
Baking Cupcakes
Understandably, it was difficult to be in her home.  Beers, who lives in Olympia with her husband, Zach, and two children, Sam (13) and Georgie (6), spent weeks at her mom's house.  "We tried to keep the kids's routine as consistent as possible," adds Beers.
Sam, who was 11 when Charley passed away, has a "huge whole in his heart".  "Georgie and Charley were only 19 months apart in age.  They had just always been together," continues Beers who is thankful for the friends and family who "picked up the pieces to make sure that the kids were busy and had places to go."
Gradually, Beers and her family returned to their home.  "One day, I was home by myself for an hour.  I decided to bake cupcakes for my son's baseball team.  I chose yellow frosting because it was Charley's favorite color," describes Beers.
A few months later, she joined in a birthday celebration for close friends' children by making more cupcakes.  The business grew quickly from there.  Beers notes that all of her customers have come from word of mouth referrals.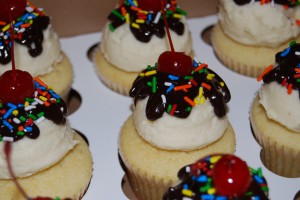 "Charley was the most like me.  She was always in the kitchen.  I want people to remember that she was here," says Beers.  "The opening of Sweet Charley B's Cupcakery will be the beginning of a long standing Olympia institution, and a perfect tribute to the most memorable little girl," adds Schreck.
Beers is very clear that her business is successful because of the support of her family and friends.  "I could spend the rest of my life trying to repay them for what they have given to my family and I could never get close," summarizes Beers.
Until the storefront opens, you can order cupcakes by contacting Amanda via Sweet Charley B's Facebook page.