By Anne Larsen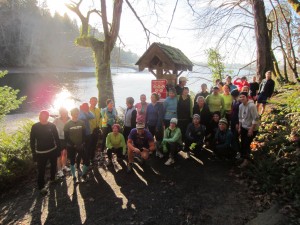 The first 5k I ever ran was the Komen Race for the Cure, at Husky Stadium in 1998. Being a super active kid I fell hard off the health and fitness bandwagon in my teens and early twenty's, and let's just say I made a lot of choices leading up to that first 5k that made 3 miles seem epically long, hard, and painful.
But we all need a starting point, and that is what "charity runs" have done for this generation of runners. It has introduced the joy of running (or triathlons, or bike rides) to a group of individuals who may have never experienced pinning on a race number if it hadn't of been for a cause or charity they were supporting.
Charity runs take the intimidation out of participating in an athletic event. They often include walking options or are family friendly. And truly, it is hard to feel sorry for oneself or even take for granted ones health when you are participating in an event that supports charities for folks that couldn't participate because of disease and other health situations.
I talked with two race directors in Olympia that know the ins-and-outs of coordinating a charity run (or runs) and all of the blood, sweat, and tears that go into making sure participants walk away feeling a sense of accomplishment in self and making a contribution to an organization they believe in.
Lauren Cramer is a mom, cyclist, runner, and race director extraordinaire that started her charity run to spark awareness in our community about Rett Syndrome, which her daughter Ella was diagnosed with 5 year ago. Guerilla Running's Rachel Jamison leads the charge (many say revolution!) in bringing together the joys of running and giving. These ladies are so well-spoken and passionate about what they do I'm not  going to alter their answers or doing any word juggling. I think what they say speaks for itself and I hope you are inspired to participate in one of their events or even get inspired to put on a charity run yourself!
Thurston Talk (TT): Can you give us a bit of the history of starting the Run for Rett?
Lauren Cramer (LC): My daughter Ella is 8 years old.  She was born a typical little girl and developed normally until she was 14 months old.  Around that time she started losing skills like speech and fine motor skills.  At her 18-month check-up I mentioned my concerns to the doctor and we were referred to an Early Childhood Center in Seattle.  She was originally diagnosed with Global Developmental Delays and then Autism.  I was never convinced that she was Autistic, because she always made great eye contact.  She was still very delayed (no speech, poor fine motor skills, very clumsy when walking), when we moved to Olympia around her 3rd birthday.  During our first visit with Dr. Lindgren, he asked if she had ever been tested for Rett Syndrome (RTT).  He recommended that she be tested and sure enough, she had it!  Ella is fortunate to be able to walk and use her hands to eat, because about half the girls with Rett Syndrome are in wheelchairs, cannot use their hands, and have g-tubes to receive nutrition.  Since her diagnosis, she has developed many of the symptoms of Rett Syndrome, including hand ringing, breathing difficulties, & seizures.  Rett Syndrome is not a degenerative disorder, but it is a x-link disorder that affects mainly girls and causes severe developmental delays and physical challenges.  A girl is born with Rett Syndrome every 5 hours, making it the second leading cause of mental retardation in girls.
I wanted to talk with other parents dealing with Rett Syndrome as soon as I found out that Ella's test was positive.  A friend's cousin's daughter in Portland had Rett Syndrome, so I was able to talk with her about how their family has dealt with the disorder and what I can expect.  It was such a comfort to talk with her and feel like I had friends who knew exactly what I was going through.  She recommended that I become involved with the Northwest Rett Syndrome Foundation (NWRSF) and attend their annual conference.  Becoming a member of NWRSF has become a huge blessing in our lives.  It is wonderful to have a community of families, doctors, therapists, and researchers who can answer your questions, comfort you when you are feeling discouraged, and help you to find ways to improve your child's quality of life.  It was a few years after joining the NWRSF that my husband suggested we organize a run in Olympia to raise awareness and money for the NWRSF.  We have participated in a lot of organized races over the years and decided this would be a fun way to spread the word about Rett Syndrome.
TT: So, how do you pick the charity or charities that you are going to fundraise money and awareness for?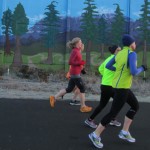 Guerilla Running (GR): This is my favorite part…. we choose charities based on a number of factors. Sometimes it is as simple as without a given charity, we couldn't have our race. For instance, Mountain Marathon benefits Friends of Capitol Forest whose sole purpose is to keep our forest lands accessible to run and bike.
Sometimes we choose our charity based on personal inspiration. Our Cupcake Classic was created to honor a grrrl (that's girl in non-GR talk:) that runs on our team and is a breast cancer survivor. Seems like hosting a race to benefit breast cancer research is the very least we can do… she's such an inspiration! Sometimes we choose a charity because of logic. The Oly Trot benefits the Thurston County Food Bank – it's just seems like a natural fit for a Thanksgiving Day race.
Finally, with the races that don't fall into these categories, we just watch…. it's fun! We keep our eyes out for organizations doing good work in our community for people, animals, the environment and "gift" them by choosing a race to support their work.
We try to make our races as low impact on our chosen organizations as possible. Ultimately, they were not chosen because of what they can do for our race, they were chosen because of what they do for our community at large. We'd rather just host the race, write them a check and let them get on with the good work that they are doing! This is, to us, one of the most revolutionary parts of Guerilla Running. That we can help running be a conduit for the betterment of the entire community is a tremendous privilege. Viva la revolution!
TT: Give us the low down on planning the event. How do you chose the distance, the course, time of year, and all the other details?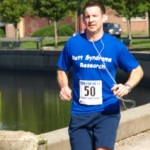 LC: We decided a 5K is a great distance for seasoned runners as well as beginners.  We added the 3K walk on the second year once we saw that many people wanted to participate that did not want to run.  The kid's race was another great addition, making the Run for Rett a family oriented event.
I wanted to choose a course that would be flat, centrally located, off the roads, and scenic.  Capitol Lake was the perfect fit.  The first two years we started at Heritage Park, but we decided to move the start to the Tumwater Historical Park in 2012 in order to have a covered shelter and a play area for kids.  We chose June because the weather has warmed up, kids are still in school, and the later summer months can get very busy with vacation and sports.  This year the race is actually on my birthday!  I can't think of a better birthday present that raising awareness and money for a cause that is so special to me and my family.
GR: Every race that we host is one that we would want to run. Perhaps it is a common distance, but an uncommon setting. Perhaps it's just an uncommon event (3 Towers, Backwards Mile). We try to keep our events interesting… we've both run so many 5K's, 10K's, marathons… we want to put on an event that people will remember and that stands out from other events!  Also, Craig (the other half of GR) and I can be gluttons for punishment. Transcendence 12-Hour was started because, while on a run one day, we decided that the most miserable thing a runner could possibly be asked to do is run around Capital Lake for hours and hours… and so the race was born!
TT:  Logistics are huge. Can you explain to the reader about all the time and effort that goes into: registration, timing, volunteers, safety, traffic management, first aid, food, restrooms, and other logistical considerations?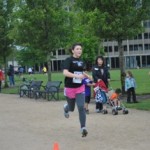 LC: The key to being a race director is to be organized and to have a timeline for when things need to get done.  The first year I tried to do everything myself and it was crazy!  I had some good volunteers that helped me on the days leading up to the race and at the event, but I learned that you need help along the way with a good committee of volunteers.  I talked with several people the first year, including Greg from South Sound Running  and another local race director, and they gave me a lot of great advice.
These are the steps I learned from them and from experience over the last two years:
1. Choose a course that will be easy to marshal, either because it is on a trail and does not need road closure or because it has mostly right turns. You will want to check with the local police department to make sure your event is safe and find out whether or not you need traffic control.  You also want to make sure your course has restrooms so you don't have to worry about providing them.  A park is a great place to start and end a race.
2. Have your course sanctioned by the USA Track & Field Association.  It is an inexpensive way to have liability insurance for your event that covers you and all your sponsors.
3. Hire a timing company that will be a good partner for race day.  We have used Guerilla Timing and love them.  They are a local company and do an excellent job!
4. Use an online registration site that allows you to easily access your registrations and is cost effective.  Active.com is the best one I have found and it has a way to connect to fundraisers if you want to add that to your event.
5. Spread the word! Posters are good, but having smaller cards that you and your friends can hand out is an even better way to let people know about your event.  Social media works great, too!
6. Find a reliable company to print your race t-shirts.  I have found that small, local companies are great for charity runs because they are often willing to be a sponsor to help with the cost of the printing.  It is great advertising for them and a nice break for you.
7. Post-race food can be okay or it can be great and it is easy to make the jump to great!  Assign a volunteer that likes to party-plan or entertain a crowd–they will be good at having a nice variety of foods, getting the most out of your money, and will make it look nice.  Most of the grocery stores in town are willing to make donations, so don't be afraid to ask!
8. Volunteers–make assignments before race-day and make sure everyone know their job.  You are going to be very busy on race day and knowing that your team of volunteers is prepared will make everything go much smoother.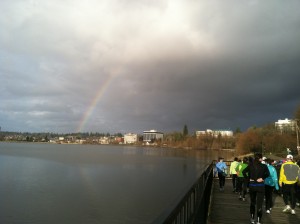 GR: Oh dear… that's a BIG question! To put on a quality race, there are tens of people and hundreds of hours that are spent. Where to start… we are fortunate that we have an incredible racing team that has taken on a lot of the prep work. We have a team of two (Super Duo, as we call them) that handles all registrations, packet pick-ups, etc. There is quite a bit of time and energy spent working with the City and State on getting our permits for the events. Goodness… how to answer this question. Yes, each race requires a LOT of volunteers, a LOT of food, and a lot of coordination with various folks.
TT: Finding sponsors – how does that all work?
LC: I asked businesses that had a connection to my family, since they knew our daughter, Ella, and already had an interest in her.  I prepared letters that explained the purpose of the Northwest Rett Syndrome Foundation, outlined the goals for the Run for Rett, and offered them three levels of sponsorship (Gold $500, Silver $300, & Bronze $100).  Some sponsors give cash and others give goods or services.  The first year I only had 4 sponsors and now I have 10!  Some of the new sponsors were from runners that owned businesses and wanted to be a part of our event.  Don't be discouraged if you can only find a few sponsors the first year.  More will come as they hear about the success of your event.
GR: Most of our sponsors support our events by donating prizes. We are often approached by businesses, so there is not a lot of solicitation on our part at this point. To the greatest extent possible, we try to keep our sponsors local and/or that share our world view (that running can make a positive difference in the world at large). I think that people have seen the work we've been doing and want to support it. It's really sweet: to know that our events are supported by so many amazing local businesses. Olympia is blessed to have an abundance of very cool health practitioners, restaurants and stores. To us, running is a team sport. Our sponsors are part of our team… looking for ways to support individual and community health simultaneously.
TT: How do you get the word out?
GR: We're a little bit country, a little bit rock and roll in this department. We still make good old fashioned posters and also utilize social media (Facebook) to get the word out. Our website gets upwards of 10,000 hits a month, so apparently that's a useful method, too!
TT: Tell us about the "bigger picture" or how you feel seeing folks doing their first 5k. What's it like seeing charity work being the vehicle for physical activity and community well being?
LC: A 5K is a great way to encourage a healthy lifestyle in the community.  We all need something to motivate us to exercise and a charity event is an excellent reason to start.  I remember the first time I ran a 5K.  It was a charity run in honor of a man who had died of heart disease.  At the end of the race I was so proud of myself knowing that not only had I run 3 miles but that I also helped raise money for a good cause.  You certainly don't have to register for a race to feel good about being healthy, but it is a wonderful way to help your community while doing something that is so good for your body.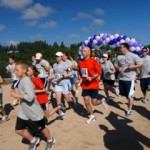 GR: Guerilla Running started as a way for us to raise money for organizations we cared about, to change the world. As is often the case, we have been profoundly changed by the entire experience. It's soul food. There is nothing like watching someone who has just started running cross the finish line of their first 4K, 5K, half marathon. So many of the people I have met through Guerilla Running have touched my soul. It sounds sort of cheesy, but I'm forever changed. The courage it takes for a new runner to step up to the start line is incredible. I am honored that so many people trust us to guide and coach them through their journey of exploring what I think is the most beautiful sport on earth: running!
TT: At the end of the day, what is your goal for fundraising and raising awareness?
LC: My goal is for people to know what Rett Syndrome is and how it affects my daughter's life and the lives of thousands of other girls like her.  I want them to know that research is being done right now to find a cure so that she can learn to run, to talk, and to be free of Rett Syndrome.  I want them to know that each person who registers for the Run for Rett is making a difference in my life and in the lives of the families in the Northwest who are living with Rett Syndrome.
GR: Our "ultimate" goal is simple: we want to change the world. We want, through the simple act of running, to give people opportunities to challenge their pre-conceived notions of 'self,' to reach beyond the limits they had previously set for themselves.
When we can show ourselves that we are stronger, bigger and more courageous than we thought we were, we take that new knowing into ALL aspects of our lives. Perhaps knowing you CAN run a 5K makes the idea of going to college seem more do-able. Maybe participating in a race that raises money for a local organization doing good work in the community will inspire someone to take action they've previously been afraid to. Running has a special way of pushing us to the very edge of who we are and, in so doing, opening our hearts and minds to limitless possibility. Healthy individuals = healthy families = healthy communities = a healthy world!
LC:  Putting on the Run for Rett is a lot of work, but I am thinking about my daughter the whole time and it makes all of the work worth it!
There a dozens upon dozens of opportunities this Spring, Summer and Fall to jump into a local charity run, bike ride or triathlon and do something great for yourself and your community. To track down a few, just go to www.ontherunevents.com and scroll through their calendar.
Run for Rett info & registration: http://ontherunevents.com/run4rett/
Northwest Rett Syndrome Foundation:  http://www.nwrettsyndrome.org/
Guerilla Running: http://www.guerillarunning.com/